The Best Web Browser Extensions: Running a function to open a site is no longer the only requirement that is run by a web browser. Many functions that must be offered by a web browser to be selected by potential users. Web browsers are always expected to be able to quickly display the contents of a website intended by users. In addition, the web browser is also expected to perform other functions previously performed by other applications outside the web browser.
However, speed vs. function is two opposite things. In any common scenario, the addition of functions will slow down the performance of the web browser. Except for Internet Explorer, which ironically the first web browser that introduced the use of extensions but worsened its performance.
Here Come The Extensions
Fortunately, most popular browsers allow us to add the specific function to the browser we're using by installing add-ons. That is what we now call as extensions. Extension or plugin is an add-on that we can embed in the web browser. With the extension, we can choose only the functions we need. This causes the web browser that we use does not have to come fully equipped with the functions that most of us never even use.
Here Come The Extensions
Fortunately, most popular browsers allow us to add the specific function to the browser we're using by installing add-ons. That is what we now call as extensions. Extension or plugin is an add-on that we can embed in the web browser. With the extension, we can choose only the functions we need. This causes the web browser that we use does not have to come fully equipped with the functions that most of us never even use.
Browsers built from the same root will not be discussed here. For example, Chromium will certainly use the same extension (not apps) as Chrome, Firefox Nightly will be the same as Firefox, and so on.
---
How To Pick The Extensions
Extensions have similar sensitivities just as other software. Sometimes it can be very annoying. Instead of making your browsing experience more productive, it's making your browser slow and renders your web browser unusable. Based on that, browser developers tend to use their own extension center (but that alone can still get away from curation). It leaves us with the option to choose your own pick to use according to how trusted the extension developer is.
There is an easy way to presume the extension either good or bad. Look at the ads they make. I believe you have capable eyes to distinguish which ads are professionally made with the ads I created using only screenshots and screen recorders.

Good ad means good extension. Well, at least the ad indicates that the extension shown is still well maintained. You love giving feedback, don't you?
Check the ads below:
…and compare it to this one I made:
You know which one is better before even trying it, right?
---
The Best Web Browser Extensions For Me Are:
Google Translate
Grammarly
Last Pass
Black Menu
Hotspot Shield
Screencastify & Fireshot
Evernote
Read the complete Chromebook Extensions for Productivity here.
I'm writing my articles in English, then GTranslate and Lingotek translate my article into other languages. It's crucial for me to keep my writing understandable in other languages as well.
Read hear about blog translation.
I always type in recklessly, there's always an error when I do. And that includes grammar mistakes. Often I do not believe in writing, so I let Grammarly disclose my mistakes. And I can highlight a word if I feel my writing is less varied and Grammarly will advise me the synonyms of the word.
Last Pass is a must-have web browser extension for a forgetful person like myself. It stores many passwords in one place and across devices.This allows me to switch to any web browser and to my other devices seamlessly. And, this will also help people with the trust issue. Never, never save your password on your web browser!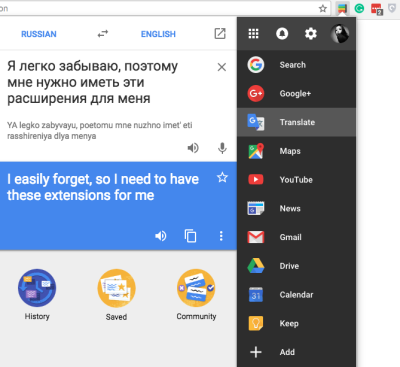 Black Menu puts all Google related apps into its nicely designed extension. I can do multitasking without even have to leave my browser.
Also for the security and unblocking many sites, Hotspot Shield never turns me down.
Read this article to see how Hotspot Shield can keep your browsing experience safe.
I use both to capture my desktop screen. Screencastify is a decent screen recorder that can record your desktop with the result of the unbelievably small sized file (not dimension or quality). As for Fireshot, it can scroll capturing the webpage I'm using, resulting in a nice seamless portrait image.
You can check the result I made for uTorrent article here
Evernote becomes beneficial when I'm collecting reference data and information for my next article. It's more than just for taking notes, it can also be your personal mail sorter (thank's to its new function). I'm also using it to put my notes to continue in Blogo as an article. And do you know that its logo is an elephant, the best mammal in memory?
---
We will be discussing some of these extension stores in our conversation soon:
Chrome
Yandex
Firefox
Safari
Maxthon
Vivaldi
Also, read about all 15 web browsers comparison.
Chrome Web Browser Extensions
You can go to Chrome Web Store (which according to my perspective is the most sophisticated web browser store) by clicking on the Apps menu on your Chrome web browser and choose Chrome Web Store from the icons shown on the next page.
The complete version of Chrome Web Store shipped together with any Chromebook unit, with the addition of Apps and Games section. As for other Chrome web browser installation, it comes with Extensions and Themes, and in some cases, extensions only.
Read here to know more about Chromebook, Chromebox and all in the Chrome family (translator needed).
---
Let's Talk About Yandex Web Browser Extensions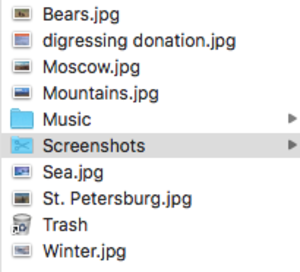 Yandex's extension center can be found by typing browser://tune/ in Yandex's search bar. Yandex has more than 1500 extensions* available.
It has Turbo Data Compression by default, I've been playing with it a bit and never had a slight of weird behavior.
The coolest thing about Yandex is the Yandex disk that allows us to treat this web browser as a personal computer. By default, Yandex Disk will give us wallpapers (and of course with bears), Music and Screenshots folder, and Trash.All of them will be synced to all of our devices running Yandex.Disk.
Yandex also comes with Anti Shocking, Ad Blocking, Flash Content Blocking to increase your safety and browsing speed.
*For even more extensions, you can install Opera's extensions by getting it here.
I really look forward to Yandex to follow Chrome's path with its Chromebook (If they ever will).
---
Firefox Web Browser Extensions
Can be spelled out if Firefox is the pioneer in this extension jobs. It's one of a few web browser that successfully integrated the extensions into use. Since its first appearance, the new Firefox made a massive update lately. And this causes a lot of obsolete extensions that can no longer be used in the latest Firefox, Quantum. Firefox already declared this thing will come to the developer two years ahead.
We can see the available extensions by going here.
I have a good news for you if you're a Chrome user who just can't live without your favorite Chrome extensions. You can install your Chrome extension by following the instruction below:
The next video will show you how you can use Chrome extensions in Firefox:
---
Safari Web Browser Extensions
Safari is an exclusive web browser for Apple devices. Luckily, it's not the only web browser we can use on our Apple devices even I have nothing to complain about Safari. And like any other Apple's products, Safari extensions can be found on its AppStore. We can see the list here.
What I do not like about the Safari extension center is the poorly given info about the extension. So we need to really install it to find out what it does. After all, despite being featured coolly in the App Store (like all Apple products), the placement of the extension mixes with other apps. And, does not Apple's search engine have any cleverness like the others to be able to display … for example, wouldn't it be convenient if we typed MarsEdit and it will automatically give us the results for Mars Edit?
---
Maxthon Web Browser Extensions
I had difficulties logging in to it extension site, even after resetting my password (that's why I need my Last Pass). Apparently, the issue was on their side. I have to go to extension.maxthon.cn since its no longer under the same maintenance with maxthon.com. The language is written in Chinese and I didn't have any translator installed on Maxthon yet. So, I reviewed Mathon side by side with Chrome like so: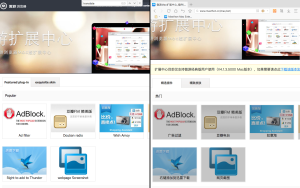 The easiest way for me to test Maxthon's extensions was by using the classic version of it (Maxthon 4). I really hope they will fix this pointless issue soon.
Also, read more about Maxthon here.
---
Vivaldi Web Browser Extensions
Vivaldi comes with limited extensions but is neatly curated. If you want to add a new extension into Vivaldi, you can use the Chrome extension as well.
It was a bit of a shock to me that I thought Vivaldi would use the Opera extension. But, again I have nothing to complain about.