There are some new things happening with Deepin OS OS 15.5. We can get new Deepin OS tool and new Deepin OS updates. And now, we're also going to learn more about Deepin OS OS and what makes it the best looking Linux distro, even better than my favorite elementary and Pop OS! You know how cool those two are, right?
Also, read about two of my other favorite Linux: elementary and Pop.
Let's Start With New Deepin OS Tool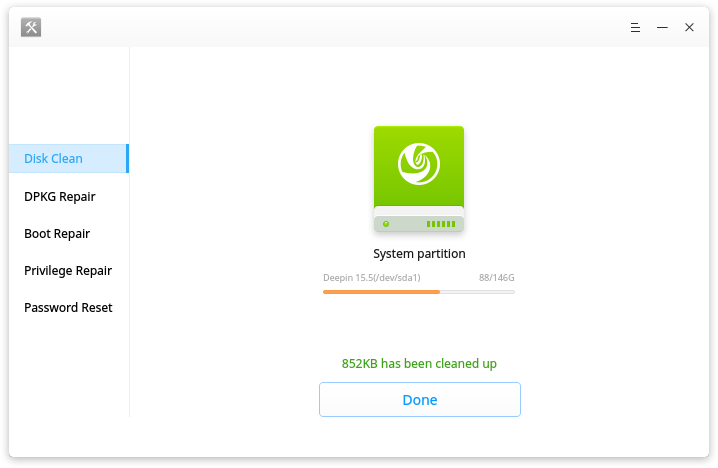 Installing Deepin OS and using it is very easy even for a no-brainer like me. Thank's for its striking design and intuitive GUI which aims to provide an elegant, user-friendly and reliable operating system. And that even gets easier by the presence of new deepin repair tool, that we can use for, well… repairing deepin.
Let's watch Deepin OS repair Tools in action:
Deepin OS Repair is a tool to help users quickly fix some issues in deepin, including:
boot repairing
hard disk detecting
disk cleaning
DPKG repairing
privilege repairing
password reset.
Deepin OS Repair can run on both deepin Live system and the real environment.  When you can't find boot menu, have privilege error or forgot login password, you can't enter deepin desktop. That's when you need to go into a Live system at first to run Deepin OS Repair. Sounds hassle-free, right?
Also, read about Deepin OS and Upin.
Deepin OS 15.5 Update
Background of What Deepin OS Is
The development of Deepin OS started in 2004 at a fast rate by Wuhan Deepin OS Technology Co., Ltd, a Chinese company. Debian is used as Deepin OS base while its previous versions (pre-Deepin OS OS15.5) based on Ubuntu.
Its desktop environment called DDE (Deepin Desktop Environment) which is based on the Qt 5 toolkit. Its home-grown applications, like Deepin OS Software Centre, DMusic and DPlayer and now Deepin OS Repair are tailored to the "average" user.
If you happen to feel familiar with the description above, perhaps because you've used it before when it's called Linux Deepin OS, Hiweed GNU/Linux. Ring a bell?
Also, read about previous Deepin OS review.
What's included in the last update:
DTK to version 2.0.6.1-1 fixed the issue that no "Help" entry to view manual;
Deepin OS Boot Maker to version 2.0.4.3-1, fixed the issue that it cannot start in live system;
Deepin OS Repair to version 1.0.1-1, fixed the issue that no icon shows for the directory.
Let's watch the video below:
It is amazing to see popular Linux sites come out with lists of "best distros" and keep missing on Deepin OS and Manjaro. It feels like they don't want the public to know about those. In the case of deepin, as I already read, THIS by far is the best Linux distribution I have ever tried, Extremely user-friendly, beautifully design and countless options when it comes to utilities. My only complaint with it is that the software versions on the app-market always run little behind to pretty much everybody. I had every possible thing I can think of when I installed it, everything native and available on my first run. "CROSSOVER" is a life saver. – deepin user.
Download the latest deepin OS by sharing the link below:
Thank you for reading Deepin OS OS 15.5, I will keep the info about Deepin OS OS updated. Make sure you click the notification button on the lower right of your screen if you haven't done so.