With my reunion experience with Chrome OS, the question arises a little today, "do I still need my other laptop?" My needs are for online activities, creating image manipulation, organizing files, performing data backups, presentations, and standard office needs.
So I made a comparative list, and if all my needs could be fulfilled using a Chromebook, then I would self-mote to just bring these Chromebooks everywhere. Previously I would say that I did not discuss the game here. Incidentally, I also do not use my other laptop to play games (except to make it writing material).
And one more thing, I strongly forbid the use of a remote desktop, virtual box or other ride emulators as a solution. Frankly, I wonder with those who make "tutorial" how to run an application but it turns out using remote desktop/VirtualBox. It is misleading and also a waste of time!
Without further due, let's start with the most basic laptop user activity to the complex ones…
Without further due, let's start with the most basic laptop user activity to the complex ones…
Office Alternatives
Microsoft Office has been the leader of well… office applications since the term desktop computer was found. Being a standard worldwide is making Office grows even faster and rich in feature. It's not free… but also not that expensive. I can't understand why some people turn into using the pirated version they find online rather than the original with free customer support.
On the other hand, Chromebook comes with its pre-installed "office", it's free and does the job done. Docs can do most of the thing Words can do while Sheet slips as the replacement for Excel. Slides help you handling Powerpoint files. And as the bonus, you don't even have to install them. It works anywhere with the internet browser and internet access.
You can create your file on your phone while you're on a train to your work. Open the very same Docs file on your PC without the need of transferring, and share it to your boss (or anyone) from your worksheet. Sheets and Slides have the same feature.
Just for an example of what Google Docs can do, check out this text file I created as I made this article. It's as simple as that, I don't even know where Google stored my file (yet) LOL.
iCloud, OneDrive, Dropbox and other Cloud Service
I wrote the article about cloud storages before. Including Backblaze, CloudBacko, Mega, and Deego. So I don't think I should cover that again now. If the term cloud storage doesn't sound familiar to you, perhaps you might want to read those articles first.
Chromebook comes with Google Drive pre-installed… duh. Need I say more? If you're not a fond of Google Drive, you can still use other cloud service using extensions or simply by opening it on Chrome Browser, but I think that would be as lame as those lame "remote desktop and virtual box" tutorial. Wouldn't it?
(Not) Surprisingly, Drive is where Google stored my text file you opened earlier. As simple as that! All I did was clicked share then choose to whom I wanted to share it with. I chose "everyone with the link can open it".
You don't have to worry about privacy and security issue since it would be only you and the people you chose to share with who have access to your files.
Lightroom
I use Lightroom for batch processing, photo toning and library synchronizing since Adobe Creative Cloud was first launched. Google Photos can do just that, but I also put Polarr on the next step for finishing touch.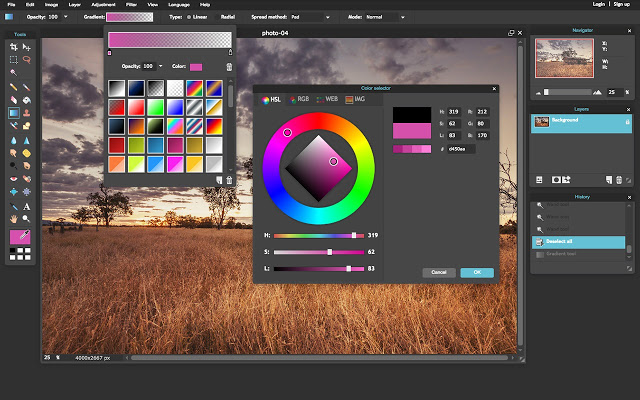 Photoshop
Comparing Photoshop to other application sounds like a bullshit, and I won't deny it either. Hahaha… But, we all know how expensive Photoshop is. I've tried Gimp on Linux and it worked fine. But that's not why we're here. As for Chromebook, there is one application that feels like a discount version of Photoshop. It's called Pixlr.
Pixlr has the ability to work with layers like Photoshop, try it for yourself and tell me if you agree with me saying, "discount Photoshop".
Also read Gimp Tutorial and Pixlr Tutorial.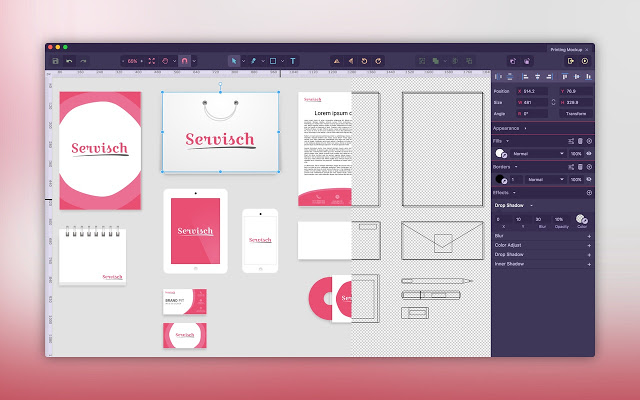 Corel Draw & Illustrator
I don't understand why Corel Draw users still exist on this planet? I've never touched Corel Draw since I use Adobe Illustrator. Let's skip that for now. So, do I still need my other laptop to do vector works?
With my current need, I think I can make use of Gravit Designer, also a vector application. But I won't recommend to use it for high-end use (yet).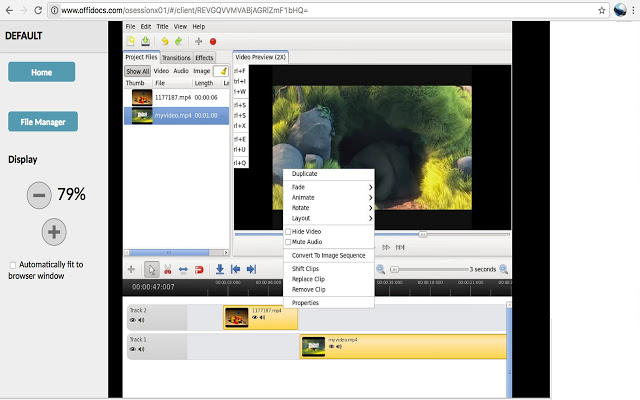 iMovie & Windows Movie Maker
I only name two of the most basic video editor here to make it a fair play. >;p
Most Chromebooks were not manufactured with high specification because it's only needed to do just in a level of an ultrabook (sort of). Of course, it's more than enough to run YouTube and its editor, but we're talking about "real" video editor here.
And now is the time for me to say that there is no Chrome app descent enough to act as a video editor. But I have used the extensions such as WeVideo, OpenShot and Video Maker which were just enough.
You can see the complete list here.
Internet Browsing
Just kidding!
So, Do I Still Need My Other Laptop?
I'll say yes. Because to be honest, one thing a Chromebook not good at (yet) is working offline. Unless you're Bruce Wayne who has his own satellite.
Maybe you can't afford a satellite, but I believe you can afford this:
But, if you decide to stick with Windows software, perhaps you can consider trying Frame.