Looking For The Easiest Way To Use Google AdSense Auto Ads?
I was looking for the easiest way to use Google AdSense Auto Ads on WordPress. That's because, as a blogger, the most fun thing for me is to earn money from my writing. But unfortunately, it also makes my writing activities so boring.
Just imagine if every time I have to take care of placing Google AdSense ads in each of my writing. There is already a solution, namely by using plugins such as WP Quads is very cool. However, after Google AdSense publishes Google Google AdSense Auto Ads, the plugin seems to be obsolete.
Read here to learn more about Google Google AdSense Auto Ads.
This causes me to look for the easiest way to use Google AdSense Auto Ads in order to make the Auto Ads work properly. Fortunately, WordPress always provide answers to all the challenges that I face. And this time the answer is… Advanced Ads.
How To Get Advanced Ads
All you have to do is the steps that we always do to add plugins.
That is: Plugins> Add New. Type Advanced Ads, then install and activate.

Then go to Advanced Ads> Settings.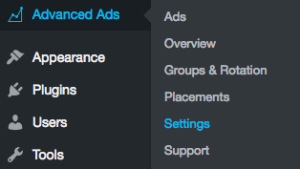 Go to Google AdSense tab, then paste your

Google AdSense ID

there, it's something like 

pub-blahblahblah

(leave the ca- prefix)
Click Save settings on this page and you're all set.
How To Get Your Google AdSense ID?
Of course, you'll need a working Google AdSense account (and approved website) in order to make this tips works.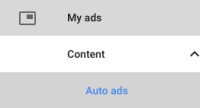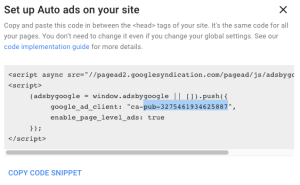 Copy the "

pub-blahblahblah

" and put it on the Google AdSense tab of Advanced Ads (I wrote in

bold red

above).
Still, No Ads Shown?
Have you inserted your snippet code in your page header?
Auto Ads requires that you enter the new snippet code in your header page. And this is different from what we previously entered.
To get the code is to click "copy code snippet" which is displayed when we want to see pub-blahblahblah, then paste it into the header of the page we want ads to appear.
Try My Favorite Plugin For Entering Code
I really like the plugin called "Insert Header and Footer", because this plugin is easy to use. You just need to install this plugin the same way you install Advanced Ads, then find it in the Settings> Insert Header and Footer section.
Paste the Auto Ads snippet code you copy earlier in the header section, then click save. Now all you have to do is do is share this tutorial to your social media and give me a donation through Patreon or PayPal. Cheers.
Just disable the warning in the setting > Google AdSense. I found the warnings quite irritating!